Find a Cheap Contact Lens, Daily, Monthly, Toric, Colored or Bifocal
Many people who wear contact lenses buy lenses directly from their optometrist, often paying by direct debit to save having to pay a large amount up-front for a 6 month supply. Every person needing lenses, whether for vision correction or cosmetic purposes, should visit a qualified eye care professional first to have eyes properly tested and lenses correctly fitted.
New wearers normally need a follow-up appointment to check that lenses are comfortable, and should carefully follow the correct cleaning and, where relevant, disinfection procedures, to ensure that eyes remain healthy and free from infection. Once familiar with lens insertion, removal and cleaning procedures, however, it is a good idea to compare prices for contact lenses online as large discounts can usually be obtained, especially for bulk orders on disposable daily or monthly lenses.
Order Cheap Contact Lenses Online
Before ordering discount contact lenses online, patients should get a copy of their prescription from their optician. Some optometrists may refuse to give a written copy of the prescription but they are legally obliged to do so. Whilst some online retailers will allow buyers to merely key in their prescription details, which can be taken off the contact lens packaging, others require the buyer to fax or e-mail a copy of the actual prescription.
To enter the correct prescription details, key in the relevant power for each eye, for example -3.75, the base curve or BC for each eye and the diameter. For soft contact lenses, worn by the majority of wearers, the BC will be either 8.3 or 8.7 and the diameter 14.0. Those wearing oxygen permeable or RGP (rigid gas permeable) lenses will have a prescription with a specific BC and diameter, appropriate to the shape of the eye. Toric lenses for astigmatism require specific additional information as per the prescription.
Cost of Disposable Contact Lenses
Savings of up to 70% can be made buying monthly contact lenses online from reputable optical retailers. Buyers in the US should buy from companies approved by the US Food and Drug Administration (FDA) to ensure lenses are obtained as new from original sources. Many of these American companies also ship worldwide and can beat prices from European retailers, despite adding a shipping charge.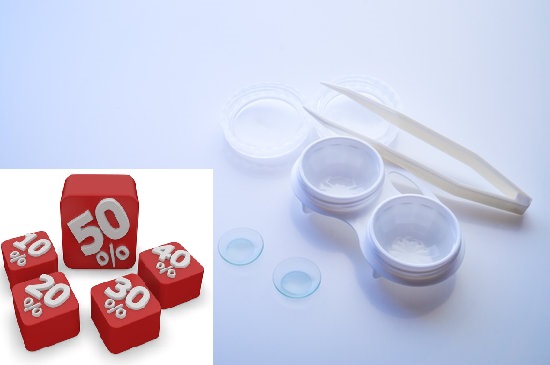 Daily disposable lenses, such as 1-day Acuvue from Johnson and Johnson, start from around $19.50 when buying a 9 month supply; monthly disposables such as Focus Monthly from Ciba Vision cost around $25.95 per box; toric contact lenses for patients with astigmatism, for example, Air Optix from Ciba Vision, cost from $48.95 per box; RGP lenses can be purchased for as little as $33 each and even the newer colored and bifocal contacts can be found at discount prices, offering big savings versus buying directly from an optician.
It is a good idea to check out prices for contact lens solution and spare lens cases and order them on discount at the same time. Look for special offers on handbag-sized bottles of solution, always handy for lubricating lenses in dry conditions or if grit gets into the eye.
Buy Contact Lenses and Contact Lens Solutions Online
Whatever the prescription, contact lenses can be obtained at discount prices through a reputable online optical retailer. Just be sure to have eyes tested and properly checked by a qualified optometrist, check which brand of lens and a compatible solution is recommended and get a copy of your prescription before ordering online.