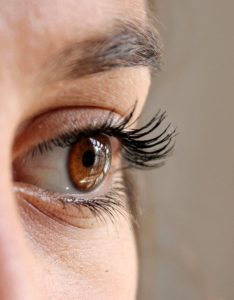 Learning how to get longer eyelashes is a beauty rite of passage for many women. Luckily, there are several ways to get fuller, more beautiful lashes.
Here are some ways to get longer eyelashes for pretty, flirty eyes.
Fake eyelashes. Buy them online, at a drugstore or beauty counter. Fake eyelashes are tricky to apply, but it just takes some practice and patience. Easy to buy, apply, and remove, fake eyelashes are a popular solution. Many women swear that the instant and the dramatic difference is worth it for special occasions or even every day.
Eyelash Extensions. Get semi-permanent fake eyelash extensions through a professional salon. More costly than the options but it lasts longer, usually for several weeks. While semi-permanent individual lashes can be bought at the drugstore and applied at home, they are quite tricky to apply so it's best to have it done professionally.
Eye Makeup. Get and use all the eyelash tools needed, such as eyelash curler, eyelash primer, mascara, and eyelash brush. It takes longer to get the look, but it's the most simple and least expensive option.
Eyelash conditioner. There are several eyelash conditioners on the market that claim to lengthen eyelashes naturally over time. For example, Lilash and Revitalash are popular options.
Eyelash prescription. Recently there have been prescription drugs like Latisse that claim to grow thicker, fuller eyelashes in weeks.
Lengthen Eyelashes with Makeup
For most women, it's more practical to get longer eyelashes with makeup, and possibly with fake eyelashes. Here are some makeup tips.
Use black or brown eyeliner on the top lash line to fill in the gaps of sparse eyelashes for the look of full eyelashes.
Apply eyeliner and eye makeup before curling eyelashes or applying fake eyelashes.
Heat the eyelash curler briefly with a hair dryer, test how hot it is, then use it. The heat helps set the curl for stubborn lashes.
Use an eyelash primer to lengthen eyelashes and hold the curl, before putting on mascara. Shiseido makes an excellent eyelash primer.
Comb eyelashes gently after applying mascara to remove clumps.
If using fake eyelashes, apply as close to the upper lash line as possible. Blend the line with eyeliner to conceal the fake eyelash strip.
Experiment with different makeup brands to find the most effective tools for getting longer eyelashes. It helps to read reviews online at sites like Makeup Alley to find the most highly rated beauty products along with useful comments.
Get Longer Lashes
Fortunately, those who aren't blessed with naturally long eyelashes do have options. Depending on the woman's preference, style, budget, and schedule, she may choose to experiment with some or all of her options for longer lashes. It takes some time and expense, but getting the glamorous look of long eyelashes is well worth it.